JERCIO IP65/144L-144Led waterproof flexible led strip light 5050RGB (SK6812/XT1511)
The lamp strip adopting the world's first built-in IC series lamp driving light emitting various XT1511 drive IC based plus a 104 capacitors. Driving lamp lamp panel looks very simple and beautiful, and the same XT1511 drive IC is a performance very stable brightness is very high. It is made of beads, high brightness, stable performance, surface appearance, concise, convenient production, low cost, so

Low barrier... Is the ideal choice for lighting lighting outdoor lighting design.

1, product type: XT1511 color light one meter 144 lights 144;

2, light source: SMD 5050 LED;

3, plate: FPCB;

4: Taiwan epstar chip, chip, and other chips in Taiwan;

5, IC model: XT1511, (1 m 144 IC, 1 IC 1 LED control lamp);

6, gray level: 256, (1 m 144 pixels);

7, LED number: 144 lights / meters, every 1 lights for a group, you can cut;

8, light emitting angle: 120 degrees;

9, light emitting color: can be adjusted by the controller, white, red, yellow, blue, green, and so on;

10, standard operating voltage: 5V DC;

11, power: 43.2W + 10% / m;

12, waterproof grade: waterproof, epoxy (IP65), (IP67), casing casing solid glue (IP68) etc.;

13, FPCB board size: width: 12mm, thickness: 2 oz;

14, FPCB color: white, yellow, black (in addition to white outside the need to be customized);

15, packing: 2 m / roll, light bar back 3M adhesive, electrostatic bag packaging;

Full color lights with a product picture: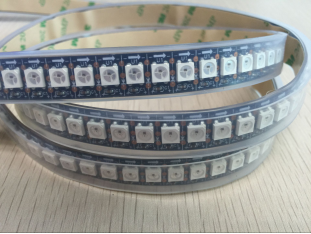 main features

1, the principle of control: a IC control a single led a loop (a group), the controller through control IC to FPCB inside the circuit control, to control the LED lights change different effect; such as flicker, chase, jump, clockwise in Happy Valley, counterclockwise in Happy Valley, monochromatic, Happy Valley, discoloration, Happy Valley, single chase from beginning to end, water to simulate lightning; this light changing effect not limited to current controller built-in 300 kinds of effect, can according to customer needs, self prepared; line screen can display, words, letters, pictures, animation, and so on.

2, environmental safety: the use of high-quality bright LED 5050 SMD. The features of low power consumption, low heat generation, no glare, impact resistance and so on. Low voltage DC 5V, 12 volt power supply, high safety and reliability.

3, color rich and varied according to the needs of customers through the controller to adjust.

4, long life: the average life of 50 thousand hours.

5, cutting, welding is convenient and free: each group of LED can form a loop, can be cut off along the top of the cut and welding to achieve the requirements of the customer requirements of a variety of lamp length.

6, soft: the use of soft FPCB board as the substrate, can be arbitrarily docking, bending, cutting and arbitrarily fixed in the concave and convex surface.

7, light and thin, suitable for installation in narrow space.

Range of use:

1, the hotel / nightclub /KTV and other places of the polygon walls, decorative ceiling for water, atmosphere;

2, buildings, advertising signs, decoration wall, festivals and other areas of the city of beauty / brightening effect;

3, Home Furnishing decorative lighting (stairs, door frame, bar, wine cabinet, wardrobe, TV cabinet, DIY Home Furnishing decoration...) ;

4, car (car body, car...) ;

5, a landmark buildings pavilions, bridges, parks and other contour outline, starting with lighting effects.

6, lighting signal (such as a variety of luminous signs)

7, Edge-Lighting transparent or diffusion of the material

8, support in underwater lighting project

9, the edge of the canopy and the arch bridge / Park / theater / cockpit lighting

Installation method:

1, indoor installation: LED lights for indoor installation is relatively simple, because there is no need to exposed to wind and rain. When the installation can be directly torn off the back of the 3M double-sided adhesive sticker on the surface of the sticker, and then the lamp is fixed in the need to install a flat on the good. If you encounter a corner or lamp strip is too short, the LED lamp belt in each group with scissors identification of tangent at any cut or welding used alone.

2, outdoor installation: installation of outdoor due to withstand wind and rain, not the 3M glue fixed, so the outdoors are often erected using the card slot in a fixed way and need to cut and connect place, the installation method and indoor, just need to additionally equipped with waterproof glue, so as to consolidate the connection point of the waterproof effect.

3, power connection method: Symphony LED lamp with voltage for DC DC 5V, so need to use the switch power supply power supply according to the LED lamp with the power and link length to set.

4, the controller is connected: LED marquee and RGB lights with to achieve the effect of changes on the controller, and each controller control distance is not the same, generally speaking, simple controller control distance is 10 to 15 meters, the controller remote control distance of 15 to 20 meters, the longest can control to 30 meters distance. If the LED lamp with a longer distance, and the controller can not control so long lamp, then you need to use a power amplifier to tap.

after-sale service:

1, the product warranty period of 1 years; warranty replacement repair, but the damage does not include man-made damage or work overload.

2, truly 1000 hours 3% light, service life of 80 thousand -10 million hours, please compare the quality of similar products in the market.

3, according to the number of customer requirements and requirements made of arbitrary length beads, welcome to inquire!

4, if you need to order 30% deposit, balance paid before delivery.